Wondering how to make pancakes? This Homemade Pancakes Recipe makes soft & fluffy old-fashioned pancakes! Get ready to dig into a stack of the best pancakes you've ever had with this easy recipe!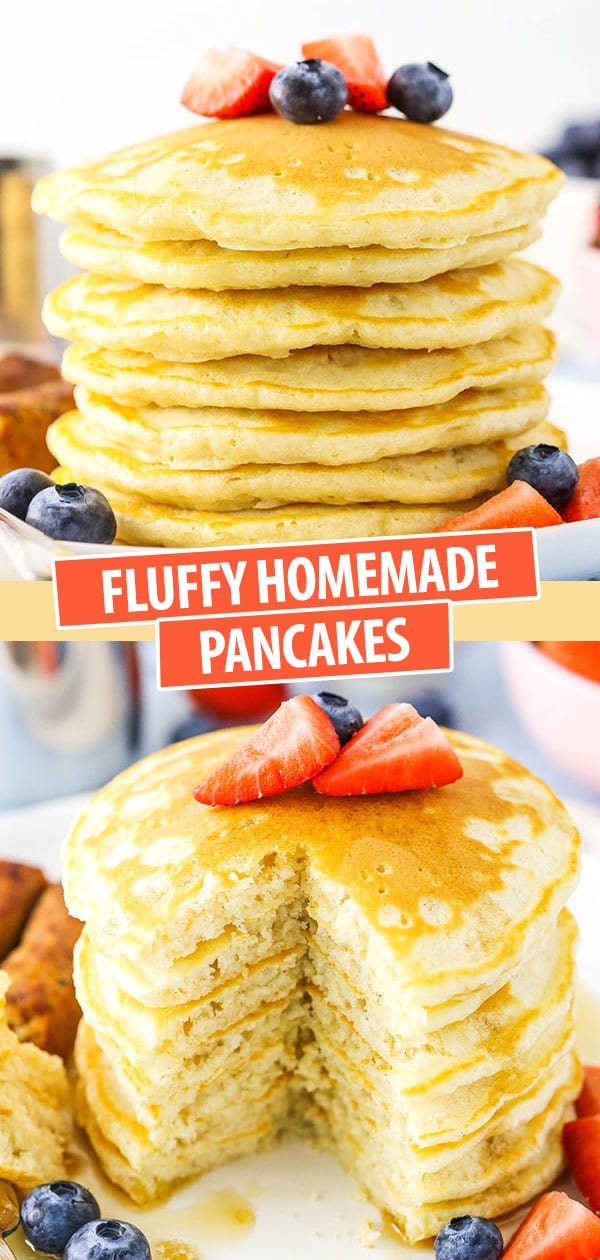 FLUFFY OLD FASHIONED HOMEMADE PANCAKES
When you have a little time on a weekend morning for a fun breakfast, pancakes are perfect! They are easy to throw together and are made with ingredients you typically already have. Plus, they are easy to change up with different things to mix in and different kinds of syrup you could top them with. A delicious, versatile breakfast sure to satisfy all!
And to make things even better, this recipe yields the most fluffy pancake! No thin, tough pancakes here. You will want to make them every weekend!
I've actually been giving them to the twins a fair amount lately. Their swimming lessons are early in the morning and they're only allowed to eat carbs before the lesson, so pancakes have been a hit. They are loving these and I love how easy they are to make! If I can make them on busy mornings with the twins running around, that's saying something.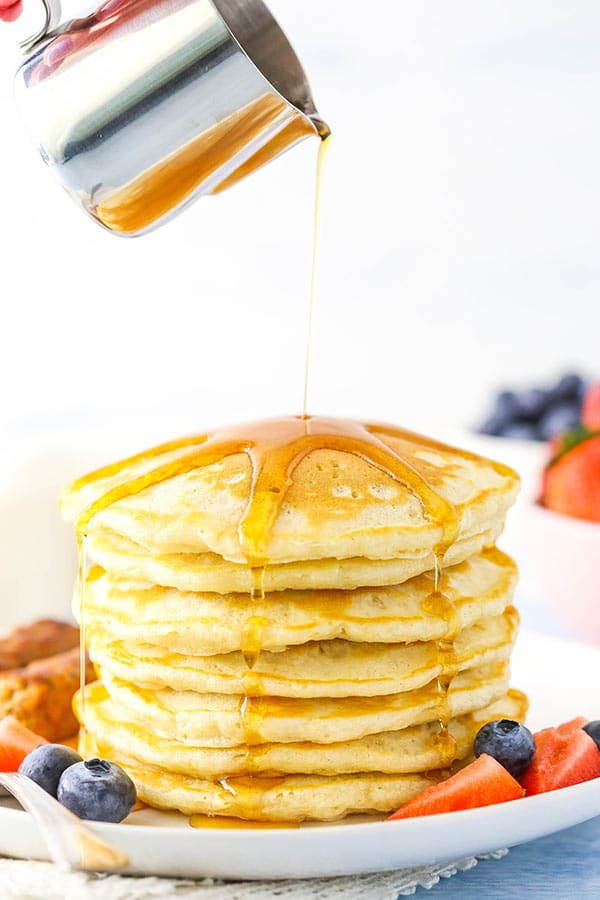 PANCAKE RECIPE INGREDIENTS
Making pancakes from scratch only requires a few simple ingredients. (You can even use this recipe to make a DIY pancake mix ahead of time – see details later in this post.)
To make homemade pancakes you will need:
all-purpose flour
sugar
baking powder
salt
egg
milk
butter
vanilla
That's it! Odds are you already have most of this in your kitchen. These pancakes were meant to be.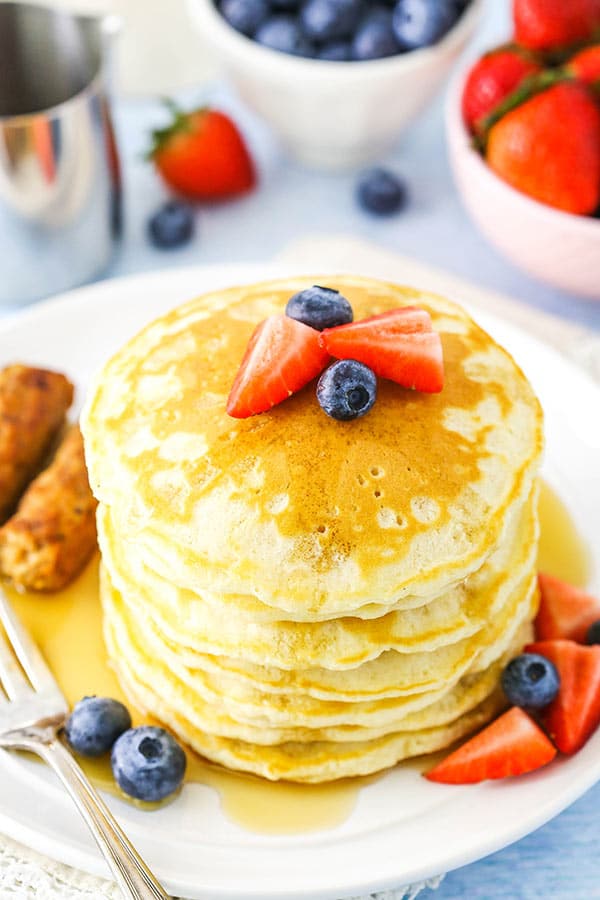 HOW TO MAKE FLUFFY PANCAKES
So now that I've told you these are easy, fluffy and delicious, let's talk about how to make them.
Start by combining the dry ingredients and the wet ingredients separately, then add them to the same bowl and gently fold them together. You don't want to do this too brusquely or overdo it. It can over develop the gluten in flour and end up giving you dense, tough pancakes.
You'll end up with some lumps in your batter and that's ok. Let it rest while you heat your griddle or pan and they'll break up a bit. Give the batter another little stir before using it and you'll notice the biggest offending lumps will break up.
From there, cook your pancakes. You'll know they are ready to be flipped when they've got bubbles coming through the top and the edges are set. I usually cook them until they are just about done, so after I flip them, they just need a little more time to finish cooking the other side so that it's golden.
Finally, serve your pancakes warm with your favorite maple syrup!
TIPS FOR PERFECT HOMEMADE PANCAKES:
Don't over mix. Be sure not to over mix your pancake batter so that you don't get tough, dense pancakes. Lumps are ok.
Use a flat cooking surface. For a nice looking pancake, cook on a flat surface. A griddle is preferable.
Make smaller pancakes. Don't make your pancakes too large, or they'll be difficult to flip.
When to flip a pancake: Your pancakes are ready to be flipped when you see plenty of bubbles coming through the surface and the edges are set.
Pancake mix-in ideas: Mix ins make these even more fun! Try adding sprinkles, chocolate chips or fresh fruit to your batter.
If you wanted to make these pancakes even easier to make, you could combine the dry ingredients ahead of time and have it in your pantry as a pancake mix. You'll want to put it in an airtight container. It should keep well, as long as the flour and baking powder you use is fresh.
CAN I FREEZE PANCAKES?
These pancakes do wonderfully when frozen and reheated! I've been doing it a ton with the boys. The mornings are rushed, so frozen is a nice shortcut.
You can either layer parchment paper between the pancakes when you freeze them so they don't stick to each other, or you can lay the pancakes out individually onto a parchment lined baking sheet and freeze them that way. Once frozen, pop them all into an airtight container or bag.
HOW TO REHEAT PANCAKES
To reheat them, microwave one pancake for about 20 seconds. Add another 5-10 seconds as you add additional pancakes. If you know you're going to have pancakes in the morning, you could even pop the number of pancakes you'll need into the fridge the night before so they thaw (which is what I've been doing). Either way, these reheat beautifully.